Persiapan Jemaat PERKI-Hamburg untuk mengikuti sidang umum PERKI se-Eropa dan Pesta Paduan Suara Gerejawi (Pesparawi) 2012 telah memasuki fase akhir ketika pada hari Sabtu pagi, 15 September 2012 tiga keluarga anggota dari PERKI-Hamburg memulai perjalanan ke Bonn, Nord-Rhein Westfalen. Sesuai rencana, para jemaat lainnya akan menyusul malam hari setelah mengikuti acara Nacht der Kirchen di Hamburg.
Sidang Umum PERKI se-Eropa, Sabtu, 15 September 2012
Sekitar pukul lima sore, rombongan PERKI-Hamburg tiba di tempat penginapan, Jugendherberge Bonn di Venusberg. Pendaftaran dan check-in berjalan lancar, pihak panitia acara, yaitu PERKI-NRW tampak siap sedia di lobby, dan dengan cekatan menyambut dan membagikan kunci kamar kepada para peserta yang datang. Setelah bersiap sejenak, rombongan meneruskan perjalanan ke gedung acara, Steyler Mission, Sankt Augustin.
Suasana gedung tampak meriah, tim penyambut tamu terlihat bersiap di pintu utama. Disana sini terlihat para jemaat PERKI dari berbagai kota dan negara saling berangkulan dan menyambut satu sama lain dengan gembira. Peserta langsung  dijamu makan malam dengan berbagai masakan Indonesia yang lezat.
Pada pukul 18.30 sore, acara kebaktian dimulai dengan menyanyikan puji-pujian rohani. Ibu Lea Manurung yang bertindak sebagai pembawa acara mengajak para peserta yang hadir untuk bersemangat melantunkan lagu-lagu yang dinyanyikan. Perwakilan cabang PERKI se-Eropa, seperti  PERKI-Belgia, PERKI-Belanda dan PERKI-Hamburg turut berpartisipasi dalam menyumbangkan lagu ataupun memandu jemaat dalam bernyanyi. Renungan malam disampaikan oleh Ibu
Pendeta  Sonia Parera-Hummel, Abteilungsleiterin Region Asien, di Vereinte Evangelische Mission (VEM) (sumber : Ibu Kartini Joseph-Mumme) dan ditutup kembali dengan doa dan puji-pujian.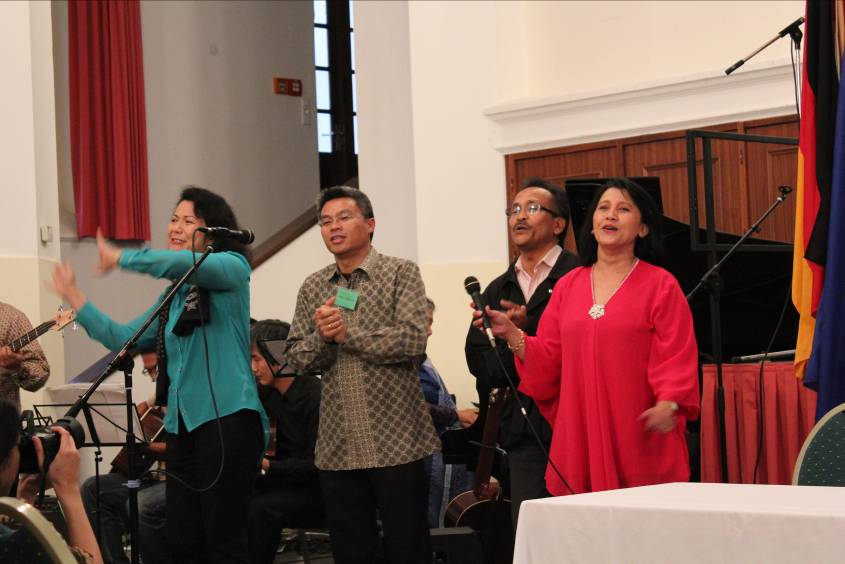 PERKI-Hamburg berpartisipasi dalam sidang umum PERKI se-Eropa
dengan  membawakan lagu "Dalam Yesus kita bersaudara" (Foto: Toga Panjaitan)
Sidang umum PERKI-se-Eropa dimulai pada pukul 19.30 malam. Agenda utama pada pertemuan kali ini adalah pemilihan badan pengurus PERKI se-Eropa untuk periode 2012-2014. Ketua PERKI se-Eropa saat ini, Bapak Dachlan Manurung memberikan sekilas kata sambutan, dan dengan bantuan jemaat, memilih para anggota majelis sidang yang bertugas untuk memimpin sidang dan memilih badan pengurus baru pada malam itu.
Terpilih sebagai anggota majelis sidang umum PERKI se-Eropa saat itu adalah perwakilan dari PERKI Perancis, PERKI Denmark (Bapak Johannes Bambang Arianto) PERKI NRW (Ibu Lena Simanjuntak-Mertes),  Perki Belgia (Bapak Stanley Pesik), PERKI-KKI Hamburg (Ibu Louise Neelen) dan PERKI Belanda (Bapak Weslin Purba) (sumber : Ibu Kartini Joseph-Mumme) . Para anggota majelis sidang kemudian meminta waktu untuk berembuk dan memilih badan pengurus PERKI se-Eropa 2012-2014 sementara hadirin menunggu sambil kembali menaikkan puji-pujian dengan gembira.
Setelah beberapa saat menarik diri untuk berdiskusi, para anggota majelis sidang kembali ke ruang acara, dan mengumumkan keputusan mereka. Terpilih sebagai badan pengurus PERKI se-Eropa periode 2012-2014 adalah Bapak Dachlan Manurung (Ketua), Bapak Stanley Pesik (Wakil Ketua), Ibu Ilse Arndt (Sekretaris) dan Ibu Ketty Nguyen (Bendahara). Keputusan ini disambut gembira oleh para hadirin yang menyatakan setuju dan memberikan dukungannya kepada badan pengurus terpilih.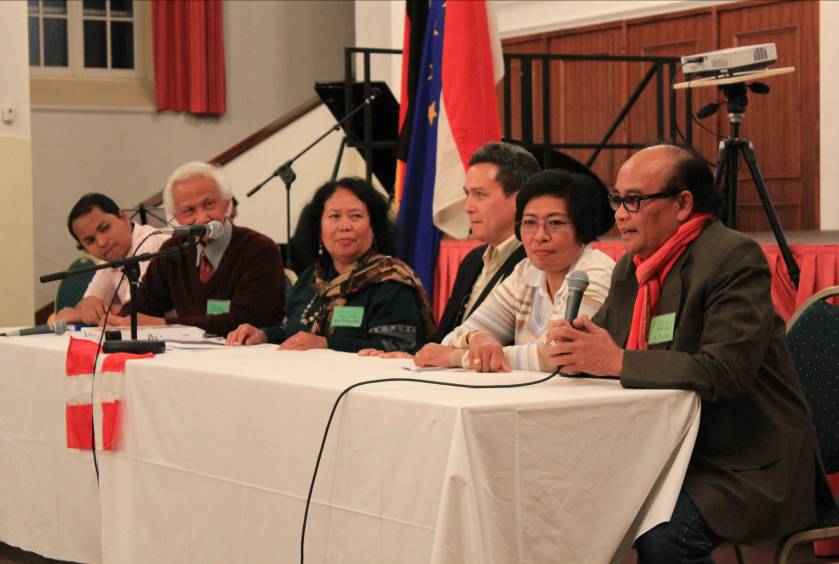 Acara kemudian dilanjutkan dengan ulasan dari Bapak Dachlan Manurung mengenai kesediaannya menjadi ketua PERKI se-Eropa periode 2012-2014, serta sekilas rencana dan program beliau di masa datang. Usul dan masukan-masukan dari para jemaat yang hadir juga ditampung sebagai pertimbangan dalam menjalankan program PERKI se-Eropa.
Salah satu masukan yang disampaikan oleh Ibu Loise Neelen dari PERKI-KKI Hamburg adalah permohonan agar PERKI se-Eropa melarang pemakaian nama yang mirip apabila terjadi suatu hal, sehingga terbentuk dua persekutuan PERKI di dalam satu kota.  Dalam kesempatan yang baik ini, PERKI-Hamburg memberi tanggapan dan memperkenalkan diri secara resmi dan terbuka kepada badan pengurus PERKI se-Eropa terpilih, serta kepada para jemaat PERKI yang hadir dari berbagai kota dan negara, mengenai tumbuhnya pesekutuan PERKI-Hamburg di kota Hamburg, dan jelas memiliki perbedaan dengan PERKI-KKI Hamburg yang telah ada lebih dulu.
Bapak Peter Felix dari PERKI-Belanda menambahkan, bahwa sebaiknya isu-isu internal kota adalah kurang tepat untuk dibawa dalam sidang umum karena tidak relevan dengan tujuan sidang umum serta kekhawatiran bahwa pembahasan yang akan memakan waktu yang lama. Lebih jauh beliau menyakatan bahwa PERKI se-Eropa adalah persekutuan yang terbuka dan menerima setiap persekutuan baru yang bertumbuh dimanapun di Eropa, dan ingin memakai nama PERKI, untuk bergabung dan menjadi anggota penuh PERKI se-Eropa.  Acara sidang umum PERKI se-Eropa kemudian ditutup dengan doa dan nyanyian.  Setelah sejenak mengucapkan selamat serta beramah tamah dengan badan pengurus PERKI se-Eropa yang baru terpilih, para peserta sidang umum kembali ke penginapan masing-masing untuk beristirahat dan menghadapi Pesparawi keesokan harinya.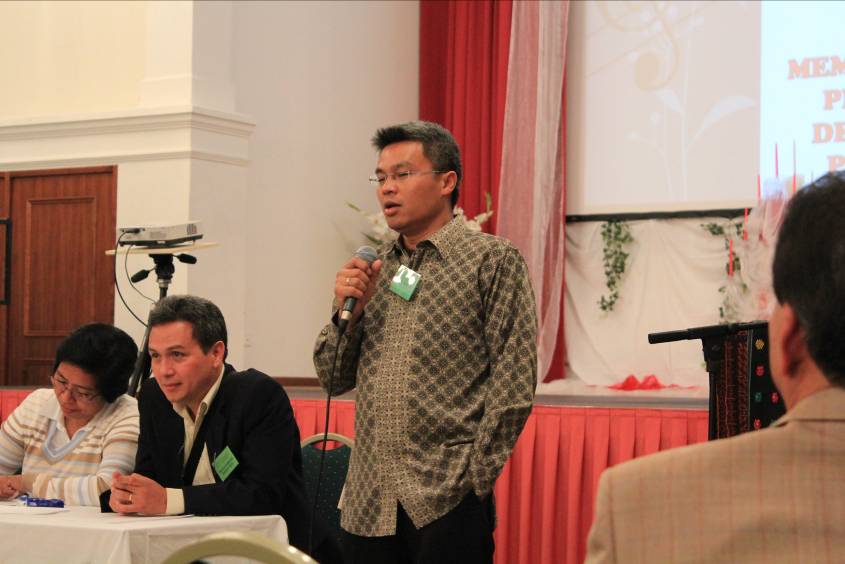 PERKI-Hamburg memperkenalkan dan mendaftarkan diri secara resmi pada siang umum PERKI se-Eropa (Foto: Toga Panjaitan)
Pesta Paduan Suara Gerejawi (PESPARAWI)
Minggu, 16 September 2012
Hari masih pagi benar ketika kami mendapatkan kabar bahwa rombongan PERKI-Hamburg yang datang menggunakan bus dari Hamburg telah tiba di gedung Steyler Mission, Sankt Augustin. Kelelahan naik bus semalaman tanpa penghangat tidak menghalangi semangat para jemaat PERKI-Hamburg mempersiapkan diri dengan seragam yang cerah untuk mengikuti Pesparawi. Setelah sarapan ala kadarnya, latihan paduan suara dipimpin oleh Helena Siahaan dan Leo Simanjuntak sebagai persiapan akhir.
                Ruang acara mulai dipenuhi oleh peserta dan penonton, termasuk yang juga baru datang dari berbagai kota dan negara pada hari itu. Parade grup peserta perlombaan paduan suara dan vokal grup memasuki ruangan membawa tanda nama masing-masing. Acara dibuka dengan kebaktian oikumene bersama dan kata sambutan dari berbagai pihak-pihak yang turut mendukung acara ini, diantaranya perwakilan dari Konsulat Jendral Republik Indonesia di Frankfurt dan Berlin.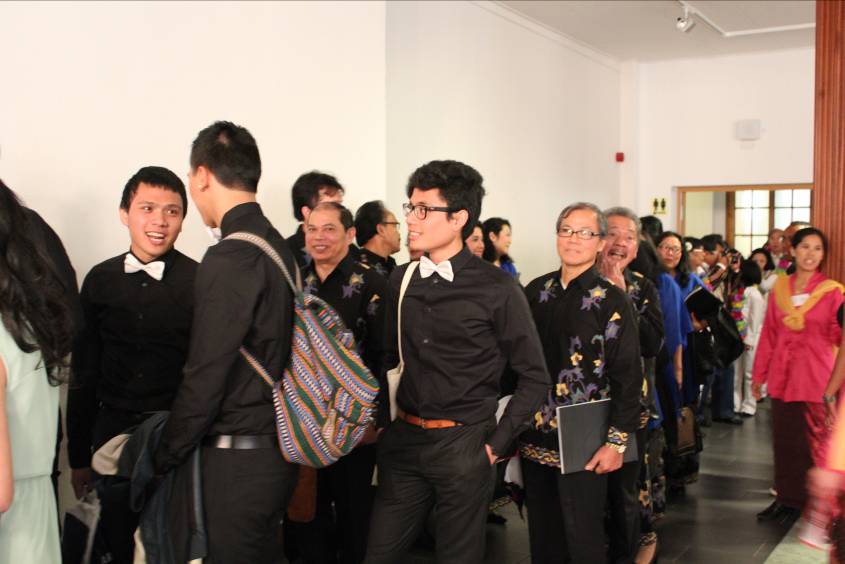 Rombongan PERKI-Hamburg bersiap menanti giliran parade memasuki ruang acara (Foto : Toga Panjaitan)
Penampilan perdana acara lomba paduan suara dibuka oleh para peserta vokal grup. Dalam kategori ini PERKI-Hamburg diwakili oleh vokal grup Remaja/Pemuda PERKI-Hamburg. Penampilan para generasi muda juga terlihat dari berbagai jenis aransemen musik dan kostum yang ditampilkan, seperti kostum warna warni dari Belgia, iringan gitar dari Duesseldorf, sedikit sentuhan musik rap dari Stuttgart dan tidak ketinggalan suguhan ala drama musikal dan tari dari Pemuda/Remaja PERKI-Hamburg.
Setelah sejenak istirahat makan siang, acara dilanjutkan dengan penampilan paduan suara dari masing-masing  cabang PERKI se-Eropa. Hampir setiap cabang PERKI se –Eropa mengirimkan perwakilannya dalam kategori ini, seperti Belgia, Belanda, Duesseldorf, Stuttgart, Frankfurt dan lain-lain. PERKI-Hamburg membawakan lagu wajib Shout to the Lord dan lagu bebas This is the day. Tidak terlihat lelah dan letih dari para peserta koor PERKI-Hamburg. Semangat bernyayi untuk memuji Tuhan dan bergembira terlihat dengan kebersamaan saat itu.
Setelah semua peserta mendapatkan giliran menampilkan kebolehan mereka, para dewan juri sejenak menarik diri untuk menentukan pemenang lomba paduan suara tersebut.
Pada kategori vokal grup, juara ketiga dimenangkan oleh PERKI-NRW, sementara juara kedua oleh PERKI-Belgia. Juara pertama dalam kategori ini ternyata adalah……PERKI-Hamburg! Suatu prestasi yang amat membanggakan dari remaja/pemuda kita. Selamat, dan teruslah berkarya bagi Tuhan !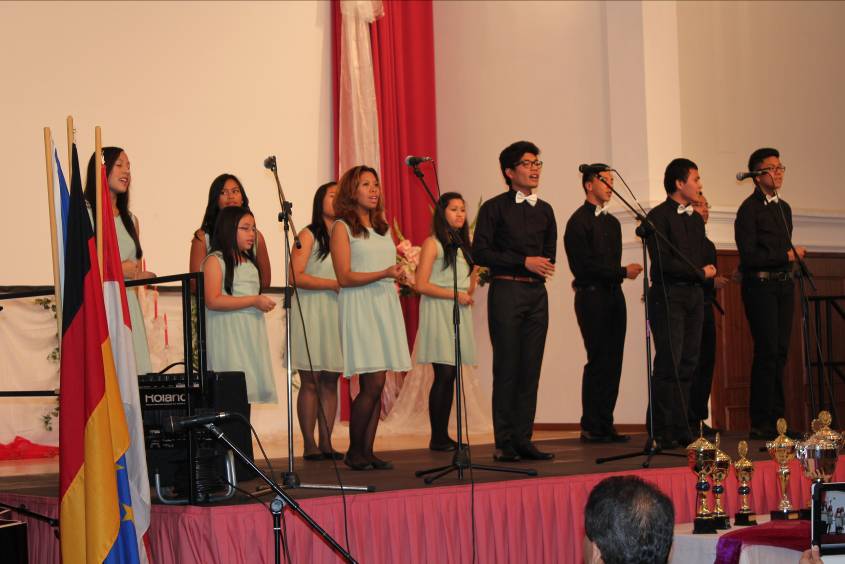 Vocal grup remaja/pemuda PERKI-Hamburg meraih juara pertama kategori vocal grup pada Pesparawi 2012 (Foto : Toga Panjaitan)
[youtube width="640" height="385" video_id="9_fIpNyVPNM"]
           Untuk kategori paduan suara, juara ketiga diraih oleh PERKI-Belanda, juara kedua adalah PERKI-NRW dan juara pertama PERKI-Belgia. PERKI-Hamburg tidak mendapatkan gelar juara pada kategori ini, tetapi kita tidak berkecil hati. Kesempatan memuji Tuhan bersama-sama dengan saudara seiman dari berbagai kota dan negara di Eropa adalah kegembiraan yang luar biasa dan penawar tubuh yang lelah.
Kekalahan bukanlah akhir dari segalanya, tetapi hanya kemenangan yang tertunda, mari kita tetap semangat berlatih untuk kesempatan di masa yang akan datang !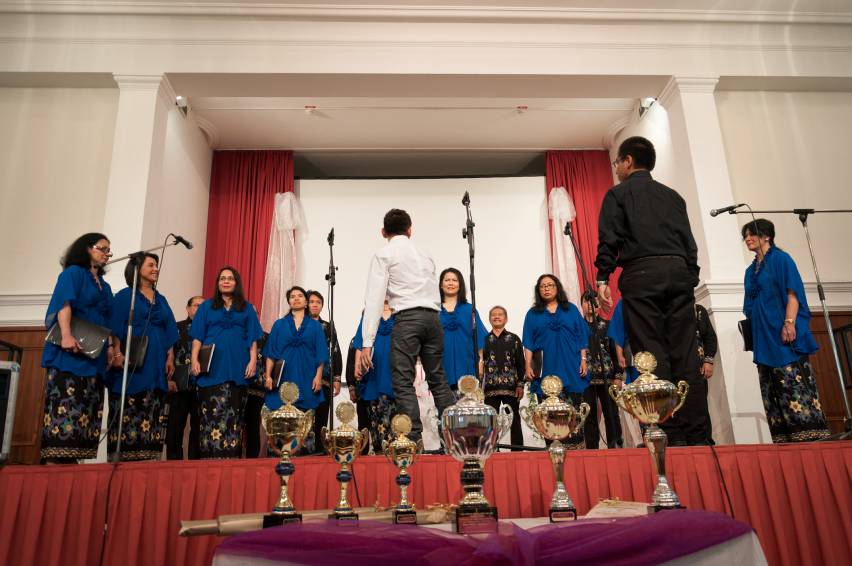 Para anggota paduan suara PERKI-Hamburg bersiap diatas panggung (Foto : PERKI Eropa)
              Hari menjelang sore, pada akhirnya acara ditutup dan bis-bis besar mulai bedatangan untuk membawa kembali para peserta Pesparawi ke daerah asal masing-masing. Banyak jemaat yang masih asyik berfoto dan saling mengucapkan selamat berpisah sampai bertemu kembali sambil menunggu bis dan kendaraan mereka siap berangkat.  Tepat jam 18.00 bis PERKI-Hamburg sudah siap didepan gedung dan para Jemaat PERKI-Hamburg dan PERKI-Bremen mulai masuk dan bersiap untuk berangkat. Rombongan PERKI-Hamburg yang menggunakan mobil juga bersiap untuk berangkat bersama-sama dengan bis. Di salah satu rest-area, sambil melepas lelah dan bercerita, kami menyantap makan malam lezat ala Kentucky Fried Chicken yang disumbangkan oleh N.N dibawah cerahnya langit malam. Sungguh damai kebersamaan ini, terima kasih Tuhan!