Angin tetap berhembus menerjang pohon-pohon di sisi jalan. Daun-daun yang mulai menguning tak sanggup bertahan pada ranting-ranting hingga terkulai dan berguguran di atas tanah yang membasah. Ah, itu semua hanyalah saksi alam yang menandakan musim gugur sudah hampir tiba. Cuaca kota Hamburg, Sabtu 6 Oktober 2012 terasa buruk untuk melangkah ke luar rumah. Tidak demikian dengan pohon-pohon, meski dedaunan berjatuhan, semuanya itu merupakan berkah. "Cuaca buruk membuat hutan menjadi subur", kata pepatah tempo doeloe.
Nampaknya semboyan itu pulalah yang mendorong derap langkah bapak-bapak makin gegap melaju ke Jugendpark Langenhorn, mengikuti acara retreat Kaum Bapak PERKI Hamburg di tengah derasnya angin yang meniup kencang disertai hujan yang menyirami Hamburg.
Retreat dua hari yang bertajuk "Hendaklah Kamu Kuat Di Dalam Tuhan" yang diangkat dari Efesus 6:10, terbilang perkasa untuk ukuran kaum bapak yang baru bangkit.
Hari pertama diawali dengan ibadah, dilanjutkan dengan tiga sesi utama yakni Ice Breaking, Quo Vadis dan Refleksi.
                         Ice breaking, sebagaimana maknanya adalah memecahkan, mencairkan dan menanggalkan semua kepenatan hidup keseharian yang dikemas dalam bentuk acara permainan lempar bola. Yang mendapatkan bola mencari sepatu pelempar bola. Pdt. Andar Pasaribu yang merancang acara retreat, meminta bapak-bapak untuk menanggalkan sepatu masing-masing. Setelah sepatu dibuka, bola mata bapak-bapak tertegun ke bawah. Nampaknya bukan mengawasi sepatunya bisa "hilang" tapi rupa-rupanya, atau barangkali takut kalau-kalau kaos kakinya terlihat ada yang bolong. Dengan suara mantap Pdt. Andar memperkenalkan dan mempersilahkan asistennya yang tidak lain  adalah istrinya sendiri, Ibu Reyni, untuk tampil ke depan mengumpulkan sepatu-sepatu.
Astaganaga! Rona muka bapak-bapak sejenak berubah, terkesima, termangu-mangu. Nampak saling lempar pandang. Malu, risih, salah tingkah campur jadi satu. Ada yang berusaha mengumpulkan sendiri. Bahkan terlihat menahan nafas lama-lama. Ini tidak ada urusan dengan takut tercium bau sepatu sendiri, tapi tentu saja khawatir kalau-kalau sepatunya menebarkan aroma yang kurang sedap yang dijinjing satu-satu oleh Ibu Reyni yang memang berprofesi seorang dokter.
Para bapak mengamati dan berusaha mencari empunya sepatu-sepatu  yang tersusun rapi (Foto : Reyni Panjaitan)
Quo Vadis? Mau Kemana, merupakan sesi utama seminar pemahaman Alkitab guna membekali kaum bapak untuk makin bertambah kuat di dalam Tuhan sebagai tema retreat. Seminar ini tidak dipresentasikan satu arah oleh Pdt. Andar, melainkan dalam bentuk diskusi dimana tiap peserta diberikan kesempatan untuk memaparkan pemahamannya sendiri mengenai arti menjadi serupa dengan Kristus. "Oh, itu susah, berat, lagi pula mana mungkin manusia bisa menjadi serupa dengan Kristus". Itulah sekilas "debat" seru di antara bapak-bapak dalam menyampaikan argumen masing-masing dengan nada polos.
Dalam rangkuman akhir dalam bentuk renungan yang diambil dari 2 Timotius 2:1, Pdt. Andar mengemukakan bahwa untuk menjadikan persekutuan PERKI Hamburg kuat ke depan, pertama harus diawali oleh kaum bapak sendiri untuk memperkuat diri, dan sebagai kepala keluarga menjadi pelopor dalam rumah tangga baik sebagai suami maupun ayah dari anak-anak. Sebab kita hidup di dunia yang penuh tantangan bahkan ancaman. Hidup kita bagaikan di medan laga ketimbang di taman bunga, yang pada gilirannya membuat kita sering merasa lelah baik raga maupun jiwa sehingga membuat kita merasa hampir tak berdaya dan putus asa. Sebagian orang malah ingin melarikan diri dari kenyataan hidup karena merasa tak kuasa menghadapinya.
Aneka masalah, tantangan dan godaan, bahkan ancaman harus dihadapi. Kita harus bekerja keras dan berjuang untuk bertahan hidup untuk maju. Dalam Kristus, Allah memberi kita karunia menjadi pribadi yang kuat secara fisik maupun jiwa. Jika hidup ini ibarat peperangan, maka Tuhan ingin kita menang. Dia ingin kita sampai di tujuan dengan penuh kebanggaan dan kebahagiaan. Sebab itu, lanjut Pdt. Andar meminta kepada kaum bapak, terimalah kuat kuasaNya. Berilah diri bapak-bapak untuk dilatih, ditempa dan dibentukNya menjadi pribadi yang benar-benar tangguh dan sanggup menghadapi berbagai masalah. Itulah yang diingatkan Rasul Paulus kepada muridnya yang masih muda, Timotius: "Jangan kecut dan putus asa", sambung pendeta yang akan kembali ke Indonesia tahun depan setelah menyelesaikan program doktor teologi dengan yakin. "Dalam Kristus kita akan kuat dan menang", tutur Pdt. Andar Pasaribu mengakhiri seluruh rangkaian retreat.
Mengandalkan Kristus dan menaruh harapan padaNya, sikap rendah hati, peduli terhadap sesama, mengambil bagian dalam kegiatan PERKI Hamburg, rela berkorban merupakan bentuk serupa dengan Kristus yang berkorban memikul salib hingga di bukit Kalvari.
Persoalan bagi kaum bapak selepas retreat yang masih tersisa adalah apakah menjadi kuat dalam Tuhan semata-mata untuk hormat dan kemuliaan nama Tuhan, Sang Pencipta, atau sekedar ambisi pribadi saja? Seberapa besar manfaat pencapaian retreat kaum bapak untuk kehidupan pribadi, peran dalam keluarga, bagi jemaat PERKI Hamburg dan bahkan kepada dunia?
Sesi III hari kedua dengan tema Liturgis, bapak-bapak dibekali dengan sajian bagaimana cara menyusun sebuah liturgi dan membuat renungan singkat dalam lingkup ibadah kategorial kaum bapak, kaum ibu atau ibadah pemuda/remaja. Peserta dibagi menjadi dua kelompok. Masing-masing kelompok diberi kesempatan waktu 15 menit untuk memilih lagu-lagu dan menyampaikan renungan. Tiap kelompok menampilkan seorang pembawa acara dan yang lainnya renungan. Kelompok satu menilai kelompok dua. Demikian sebaliknya. Penilaian akhir berada di tangan Pdt. Andar. Wahai pembaca, tahukah Anda kelompok mana yang menang? "He he he juara bersama", ungkap sang pendeta dengan nada puas atas terselenggaranya retreat kaum bapak ini dengan sukses.
Menyambung acara latihan teater untuk pengisian ibadah Minggu di gereja sore harinya, rangkaian retreat ditutup dengan ibadah sekaligus perjamuan kudus. Ibadah sudah dimulai, namun, ya ampun, lantas dimana roti dan anggur? Mirip Musa mencari domba sembelihan di bukit Sinai, para bapak-bapak masih terlihat bingung mengamati. Di meja cuma ada Reiskocher, Wasserkocher dan gelas plastik putih ukuran 0,3 liter. Bukan cawan dan roti.
"Bapak-bapak yang kekasih, sebagaimana di Indonesia nasi adalah makanan utama, maka kali ini kita akan mengadakan Perjamuan Kudus dengan nasi", ajak Pdt. Andar mengawali panggilan untuk perjamuan kudus. "Nasi, ….. ya, betul nasi", sambung pendeta meyakinkan dengan kepala mengangguk-angguk ke atas ke bawah yang mungkin melihat bapak-bapak masih terpaku heran, gaya Abraham memandang anaknya Isak di atas tungku perapian. "Sebagai padanannya kita akan minum teh pengganti anggur", ujar pendeta sambil mengangkat tinggi-tinggi Wasserkocher yang berisi teh panas yang masih menguap. Kali ini bapak-bapak menjawab, "Amin" dalam hati. Setelah itu menerima "pembagian" nasi yang langsung diberikan oleh pendeta dengan menggunakan sarung tangan, "Demi kesehatan", jelasnya dengan senyum.
Mata acara retreat yang memberikan manfaat bagi kaum bapak adalah inventarisasi program-program kegiatan mendatang hingga akhir periode sampai Juni 2014. Terungkap dalam evaluasi akhir, bapak-bapak mendambakan retreat berikutnya. Diamini bersama bahwa suksesnya retreat kali ini adalah juga berkat buah tangan Ibu Reyni Panjaitan, mama Ramon yang membantu menyiapkan semua mata acara, persiapan perjamuan kudus, dan tak kalah pentingnya yang mendulang sukses retreat kaum bapak adalah, berperan di belakang layar sebagai sutradara teater siap tampil "Yunus".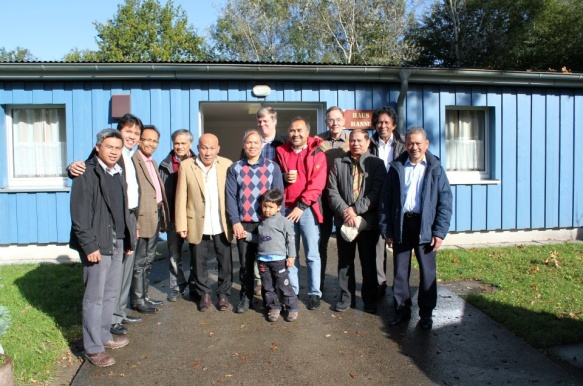 Foto bersama peserta retreat Pelayanan Kaum Bapak PERKI-Hamburg
(Foto : Reyni Panjaitan)
             Sesuai panduan buku acara, kegiatan yang masuk agenda adalah menghadiri hari ulang tahun Bapak Brury Ticoalu yang digelar di Ferdinandstrasse 21. Sudah dirancang sebelumnya, kaum bapak akan melantunkan lagu favoritnya, "Send me the pillow that you dream on. Don't you know that I still care for you", dengan dua sasaran sekaligus yakni membahagiakan bagi yang berulang tahun dan menggugah ibu-ibu. Agar menarik perhatian terutama para istri yang ditinggal di rumah, dibuatlah intro dengan nada mmm,  mmm, mmm kemudian disambung send me the pillow ……
Dipancing begitu rupa agar membuat mata suami berbinar gembira, eh bukannya menyimak syair lagu yang bernada rindu, malah para istri ikut bersorak ria bersama hadirin mendengar alunan lagu nostalgia. Padahal irama mmmm itu melafalkan frasa "mama, mama, bawalah bantal yang biasa kita pakai tidur bersama. Tidakkah kau tahu bahwa aku masih, dan tetap ingin terus bersamamu. Malam ini meski ada Pak Pasaribu tapi terasa seribu jam menunggu hingga fajar menyingsing". Padahal lebih pas sebenarnya mengalunkan nada vabriasi bibir brrrrr, brrrr, model latihan paduan suara PSPH sesuai dengan empunya ulang tahun brrr brrr, bruri bruri. Sayang, gayung tidak bersambut, entah kenapa atau mungkin juga salahnya bapak-bapak sendiri yang tidak mau berterus terang menyebut mmmm dengan mama.
                Mengobati rindu ditinggal semalam, keesokan harinya, ibu-ibu malah ramai menyambut para suami di gereja dengan nada-nada huuuh, huuuh enaklah tidur, tidak ada yang ganggu, tidak ada bunyi ngak ngik ngok dan ungkapan rada-rada rindu lainnya, seperti ya, sayang ya cuma semalam, kenapa nggak lebih lama lagi sih. Tapi dalam hati siapa yang kira, hee? Buktinya, matanya sambil merem dengan senyum di kulum. Lebih lucu lagi, kicauannya sangat  kentara, makin dekat dengan pak pendeta makin nyaring bunyinya. Ada apa gerangan? Oh, rupa-rupanya ibu-ibu memakai bahasa jaim, Jaga Image. Sejatinya mereka ingin menyampaikan pesan yang dipendam kepada bapak pendeta: "Lain kali kalau bikin acara retreat, jangan cuma bapak-bapak saja, ibu-ibu juga mau koq retreat bersama". Atau, ehm, barangkali ibu-ibu hendak mengatakan dengan sejujurnya : "Aku tak bisa tidur tanpa kau disisiku, WALAU HANYA SEMALAM".
oleh :Wemmy J. Tandaju