Pada hari Minggu 8 Oktober 2012 PERKI Hamburg mengadakan sebuah diskusi bertajuk: "Masa Depan Kerukunan Umat Beragama di Indonesia", dengan pembicara Bapak Syafiq Hasyim. Diskusi ini dapat terlaksana atas dukungan dari Badan Pengurus PERKI Hamburg yang merespons ide ini dengan sangat positif. Dalam paparannya, Bapak Syafiq Hasyim yang tengah menjalani studi Doktor di Berlin Graduate School Muslim Cultures and Societies, Freie Universität Berlin, mengajak jemaat untuk melihat kembali sejarah Republik Indonesia yang dibangun atas konsensus bersama para tokoh bangsa Indonesia dari berbagai agama, etnis dan kesukuan. Artinya, berbeda dengan Pakistan dan negara-negara timur tengah lainnya, Indonesia bukanlah negara berdasar agama. Karena itu, tegas Bapak Hasyim, bahwa semua masyarakat Indonesia pada dasarnya memiliki kebebasan dan jaminan keamanan dalam menjalankan agama dan kepercayaannya.
Namun memang harus diakui, bahwa belakangan ini terjadi banyak konflik antar penganut agama baik antara sesama umat Islam sendiri maupun antara umat Islam dan Kristen. Bapak Hasyim yang juga pernah menjadi staf pribadi KH. Abdurrahman Wahid (Gus Dur), Presiden RI ke-4, menandaskan bahwa seluruh umat beragama termasuk Islam pada saat ini sedang mengalami tantangan yang dinamakan ekstremisme agama. Agama sering dipakai untuk memaksakan kehendak melalui kekerasan terhadap umat lain yang dipandang tidak sepaham. Ditambah lagi dengan media yang selalu mengangkat tema-tema yang negatif mengenai kehidupan berbangsa di Indonesia. Hal ini tentu telah menciptakan sebuah paradigma, bahwa Indonesia adalah negeri yang tidak aman. Padahal menurut  tokoh yang juga menaruh perhatian pada isu perempuan di Islam ini, di Indonesia banyak hal positif dan membangun antara sesama umat beragama yang tidak dieskpose oleh media, seperti para laskar muda Nahdlatul Ulama yang turut membangun gereja dan menjaga gereja dari ancaman kaum intoleran. Karenanya Bapak Hasyim yang menyelesaikan studi masternya di universitas Leiden, Belanda ini menghimbau kepada seluruh tokoh dan umat beragama agar bersama menjaga kerukunan dan memberikan pesan-pesan keagamaan yang sejuk dan penuh kedamaian.
Diskusi ini juga diisi dengan pertanyaan dan tanggapan dari tiga orang anggota jemaat: Bapak Tera Siregar, Bapak Patri Tarigan dan Ibu Rupina Gultom. Ketiganya mempertanyakan perihal kebebasan beragama di Indonesia dan situasi kerukunan umat beragama yang tengah terancam akibat beredarnya film Innocence of Muslims. Secara singkat Bapak Hasyim menegaskan bahwa perihal kebebasan beragama yang terancam di Indonesia harus juga disikapi oleh ketegasan pemerintah untuk menindak ormas-ormas intoleran yang selalu mempergunakan kekerasan dalam setiap aksinya. "Aksi kriminalitas harus ditindak tegas!" tandas ayah dari dua orang anak ini. Mengenai beredarnya film Innocence of Muslims, suami dari Ibu Diah Rofika ini lebih melihat bahwa ada unsur politis di dalamnya. Banyak pihak saat ini hendak memperburuk hubungan Islam dengan barat, dan salah satunya dengan semakin banyaknya beredar film, kartun dan tulisan-tulisan dari dunia barat yang mendiskreditkan Islam. Tentu semua ini harus disikapi dengan pikiran yang jernih.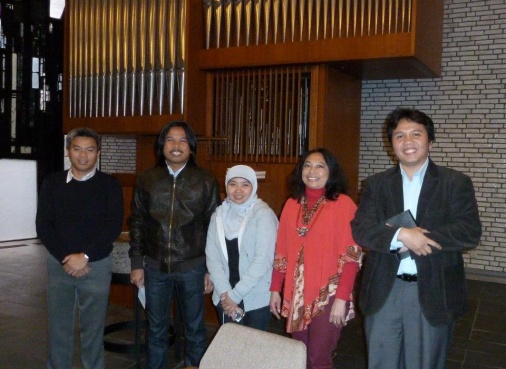 Dari kiri ke kanan : Ketua PERKI-Hamburg Toga Panjaitan, Bapak Syafiq Hasyim beserta Ibu Diah Rofika,  Bendahara PERKI-Hamburg Rosa Jeruszkat dan Bapak Pendeta Andar Pasaribu berfoto bersama setelah acara diskusi
(Foto: Kartini Joseph-Mumme)
         Mengingat waktu yang terbatas, diskusi ini harus diakhiri walaupun masih banyak warga jemaat yang berminat untuk mengajukan pertanyaan. Sebagai penutup, Ketua PERKI Hamburg, Bapak Toga Panjaitan, menyampaikan ucapan terimakasih dan menyerahkan tanda mata dari PERKI Hamburg kepada Bapak Syafiq Hasyim beserta istri. Harapan Bapak Toga Panjaitan, kiranya diskusi yang mempererat hubungan antar umat seperti ini dapat ditindaklanjuti di masa mendatang. Indahnya kebersamaan juga semakin terasa atas kehadiran keluarga Bapak Ridwan Muis dan ibu yang menghadiri dialog di gereja Reformed ini. Selamat jalan kepada Bapak Syafiq Hasyim dan keluarga. Kiranya Indonesia kita yang penuh damai dapat diraih melalui upaya bersama dari seluruh anak bangsa baik di Indonesia maupun yang telah bermukim di luar negeri.
 oleh: Pdt.Andar Pasaribu